New Recipe! - April 25, 2014


Today it may not be 70 but after this weekend, it looks like the Spokane and Coeur d'Alene area will start to shine with warmer temperatures and bluer skies!

With warmer weather and the days lasting longer you will start to notice that your neighbors are enjoying their backyards, maybe doing some lawn work and even barbecuing! Bring on the warmer weather!

Here is one of our favorite new Weber Recipes!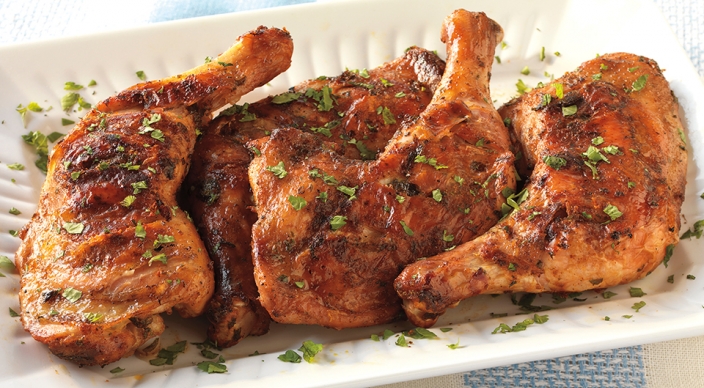 Moroccan-Spiced Chicken Legs Under Bricks

Marinade

1/2 cup packed roughly chopped fresh cilantro leaves

1/3 cup packed roughly chopped fresh mint leaves

1/4 cup extra-virgin olive oil

2 teaspoons finely grated lemon zest

2 tablespoons fresh lemon juice

2 teaspoons kosher salt

2 teaspoons ground cumin

2 teaspoons paprika

3 garlic cloves, minced

1 teaspoon freshly ground black pepper

4 whole chicken legs, each 10 to 12 ounces, trimmed of excess fat and skin

1 tablespoon roughly chopped fresh cilantro leaves

1 tablespoon roughly chopped mint leaves

In a small bowl combine the marinade ingredients.

Cut a few deep slashes in the meaty part of each chicken leg. Place the chicken in a large resealable plastic bag and pour in the marinade. Press the air out of the bag and seal tightly. Turn the bag to distribute the marinade, place in a bowl, and refrigerate for 4 to 6 hours, turning the bag occasionally.

Prepare the grill for direct and indirect cooking over medium-high heat (400 to 500 degrees F).

Remove the chicken from the bag and discard the marinade. Place the chicken skin side down, over indirect medium-high heat. Place a sheet pan on the top of the chicken and weight it down with two foil wrapped bricks. Close the lid and cook until golden around the edges, about 20 to 25 minutes. Remove the bricks and sheet pan and using a large spatula, carefully turn the chicken legs over, being careful not to tear the skin. Replace the weight, close the lid and cook until the juices run clear and the meat is no longer pink at the bone. This should be 20 minutes more. If desired, to crisp the skin, remove the weight, turn the chicken skin side down, and grill over direct medium-high heat for 5 minutes. Remove from the grill, garnish with cilantro and mint, serve warm.
This recipe is perfect for Spring and Summer! For more recipes, please visit our Recipe of the Week!
---
Team & Club Rewards to St. Mary of the Rosary - April 24, 2014


We want to give a HUGE THANKS to our customer Mike C. for donating their Team & Club Rewards to the St. Mary of the Rosary! Thank you for supporting Pool World and supporting your favorite organization!!

Mike was able to donate a Team & Club Rewards through the purchase of his new Free Flow Azure hot tub. The Azure has been designed to fit 4 adults comfortably with 18 jets in 270 warm, pulsating gallons of water. There is a spot for everyone to relax in, including a lounger and featuring a relaxing waterfall. The Free Flow Azure is a perfect plug and play hot tub!

If you are interested in seeing more information on other donations please visit our Team and Club Rewards page!
---
Earth Day 2014 - April 22, 2014


Today is Earth Day!
April 22, 1970 was the start to the beginning of the environmental movement with approximately 20 million people across the nation, participating in a national teach-in on environmental issues and environmental deterioration. Today, our society has been raised to be eco-friendly and green, but 44 years ago it wasn't this way. Over the past years, this one day has raised awareness about the environment for people who are concerned about oil spills, pollution from factories and power plants, raw sewage, toxic dumps, pesticides, reduction of wilderness, air pollution and more.
Today, over one billion people in 192 countries will celebrate our earth and take action to protect the planet. Earth Day is a day of action and will be celebrated by organized demonstrations, clean up crews, planting trees, and much more!
The 2014 national theme for Earth Day is "Green Cities." This year Spokane is celebrating the environmental progress in policies and highlighting the work being done in our local area. This year is extremely important to our area because it marks 40th Anniversary of Expo '74 which was the first World's Fair with an environmental theme.
This Saturday, April 26, 2014, Spokane will be hosting a celebration at RiverfrontPark from 10 am till 5 pm. Come and celebrate the Earth. The event will be showcasing the environmental progress that has been made and important work that still needs to be done! Help build a thriving community of citizens who are empowered about saving the Earth!
If you are a hot tub user and want to be Eco-Friendly, please visit our Green Hot Tub Products for more information.